Quality Wine in Tuscany and Beyond
Located in the Chianti Classico zone of Tuscany, Italy, Coli is a family-run winery with a long-standing reputation for high-quality, handcrafted wines. They specialize in the famous local wines of Tuscany—Chianti and Chianti Classico—with an extended vineyard range that stretches into other fantastic Italian regions, including Abruzzo, Umbria, Puglia, and Sicily.
Historical Roots in Tuscany
Currently run by the fourth generation of the family, Coli was started in 1926 by Pietro and Giovanni Coli. Together they established a family wine business in the Chianti hills just outside the city of Florence, and soon began producing the popular, Sangiovese-based wines of the region: Chianti and Chianti Classico.
The reins continued to be passed down to the following generations through 1975, when the brothers Giampiero and Gianfranco Coli took over the winery. Today, Coli winery is still led by Giampiero Coli, surrounded by his children and nephews.
Preserving Tradition While Looking to the Future
While tradition has always been important, Coli has also focused on innovative and forward-thinking upgrades to stay competitive in the modern market. As the years have passed, Coli worked hard to adopt the latest technology and become one of the most modern wineries in Tuscany.
Recent upgrades include renovating the facilities to allow for large-scale and high-quality wine production. The family has also expanded vineyard ownership to about 150 hectares of vineyards in the Chianti and Chianti Classico areas. Despite these changes, the Coli family has held fast to the founders' spirit of combining tradition with everyday quality.
An Award-Winning Taste of Italy
Coli focuses on Tuscany's signature Chianti and Chianti Classico wines based on the Sangiovese grape. The difference between them lies in the location of the vineyards: Chianti Classico comes from the classic heart of the region, while Chianti comes from a vineyard zone that expands farther throughout the region. In addition to these, Coli produces other wine varieties to please a variety of palates. These wines range from local Italian grapes such as Montepulciano, to more internationally-known varieties. The high quality of the wine is reflected in the praise and number of awards earned in prestigious competitions around the world and the labels are inspired by the family-run vineyard.
Located in the heart of Tuscany's Chianti Classico region, Montostoli is a family-run farm that has produced well-loved, award-winning wines since 1926. The Montostoli 1926 line of wine celebrates this rich heritage with classic selections like Montostoli 1926 Maremma Toscana D.O.C. Italian wine is meant to go with hearty Italian food, so pair Montostoli with any of your favorite pasta dishes.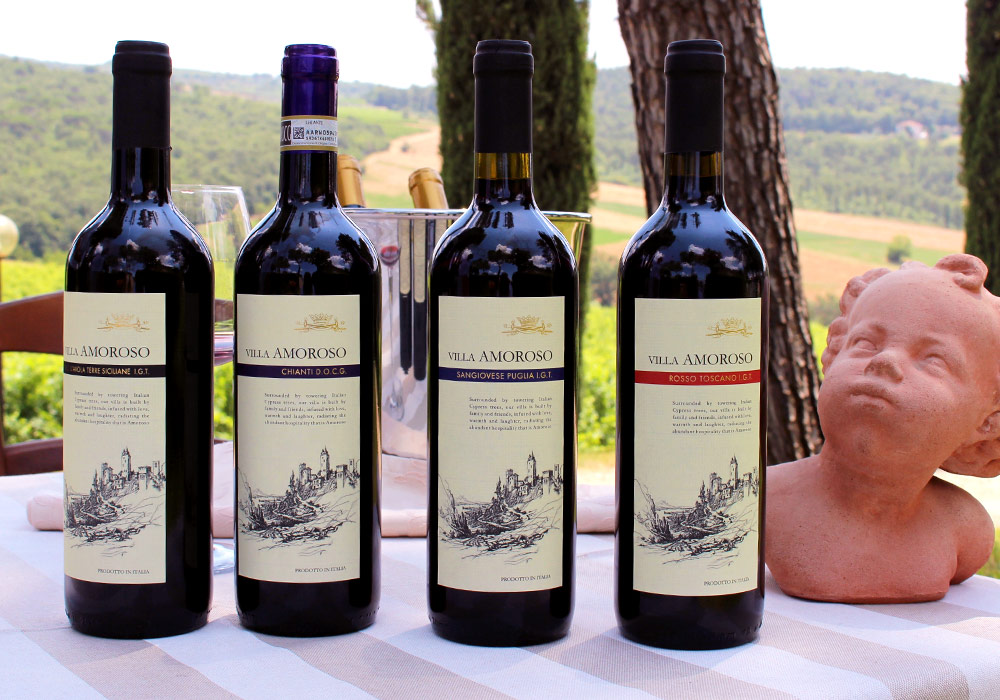 Surrounded by towering Italian Cypress trees, the villa is filled with family and friends and infused with love, warmth and laughter, radiating the abundant hospitality that is Amoroso. With Tuscany at its center, they boast sumptuous wines from the best regions in Italy—from rich Sicilian red wines such as the bold Villa Amoroso Nero d'Avola I.G.T. to crisp white wines from the Tuscan hillsides.
There is something inherently special and charismatic about Tuscan wine. Made in central Tuscany, Chianti is the probably the most famous Italian red wine. In recent years, Italian winemakers have been thrilling wine-lovers around the world with exciting new takes on this beloved, Sangiovese-based wine, like La Scelta Personale Chianti D.O.C.G.
At Home in Tuscany, Italy
Coli is based in the Chianti Classico zone, a charming area near Florence within the larger region of Tuscany, surrounded by rolling, vine-covered hills. Tuscany has been producing wine since the 8th century B.C., when it was the home of the ancient Etruscans who grew Sangiovese grapes for their wine. Since then, the wines from this famous region have spread throughout the world.
The most common Tuscan grape is Sangiovese, which is the base for many of the most famous wines such as Chianti Classico, Brunello di Montalcino, and more. For white wine, Trebbiano is the signature grape of the region. However, since the 1960s, a new movement toward growing international grape varieties (such as Cabernet Sauvignon, Merlot, and more) has led to what's known as Super Tuscan wines. These are typically Bordeaux-style red blends produced in Tuscany, often with local Italian grapes blended in.
With its temperate Mediterranean climate, generous sunshine, and generally favorable weather, Tuscany enjoys the perfect conditions for growing grapes—especially Sangiovese. The grapes ripen easily and are free from many common risks, such as mold or disease. This allows winemakers like Coli to produce consistently high-quality, great-tasting wines year after year.
Our Featured Coli Wines
Many of these excellent Coli wines are marketed exclusively on a DRINKS-owned property or through a DRINKS Platform Partnership.
1926
COLI IS FOUNDED
Pietro and Giovanni Coli established their family business
350
HECTARES OF VINEYARDS
Coli is one of top producers in the Tuscany region
13,000,000
ANNUAL BOTTLES
New bottling plant with increased annual bottle capacity