An Established Name in Spanish Winemaking
Founded in Valencia in 1885, Vicente Gandía has become a well-known and established winery in Spain and internationally, selling wine in more than 90 countries across 5 continents. The winery produces a variety of red and white wines from 9 Spanish appellations — including Valencia, Rioja, Cava, Priorat, and more — which have won hundreds of medals and are enjoyed by customers around the world.
Blending Tradition With Modern Production
As one of the largest wineries in Valencia, Vicente Gandía grows over 350 hectares of wine grapes, with some even located at very high altitudes, producing elegant and unique wines. The winery boasts facilities housing modern and advanced technology, updating traditional methods to save energy and protect the environment. The winery controls their entire production process — from harvest to bottle labeling – allowing them to leave their own stamp on their wines without losing any essence of the origin.
Vicente Gandía wines are known for their elegance, complexity, softness, and balance. The winery uses sustainable cultivation of grapes while also celebrating their local, native varieties.
Award-Winning Wine Quality
In Spain, customers recognize the name Vicente Gandía as a guarantee of consistently high-quality wines with reasonable prices. In 2014, Vicente Gandía was named the Best Spanish Wine Producer at the prestigious international competition AWC Vienna. In 2018, the European Council of Enogastronomical Confraternities (CEUCO) awarded Vicente Gandía the award of Aurum Europa Excellente — Best European Winery.
Located in the heart of Tuscany's Chianti Classico region, Montostoli is a family-run farm that has produced well-loved, award-winning wines since 1926. The Montostoli 1926 line of wine celebrates this rich heritage with classic selections like Montostoli 1926 Maremma Toscana D.O.C. Italian wine is meant to go with hearty Italian food, so pair Montostoli with any of your favorite pasta dishes.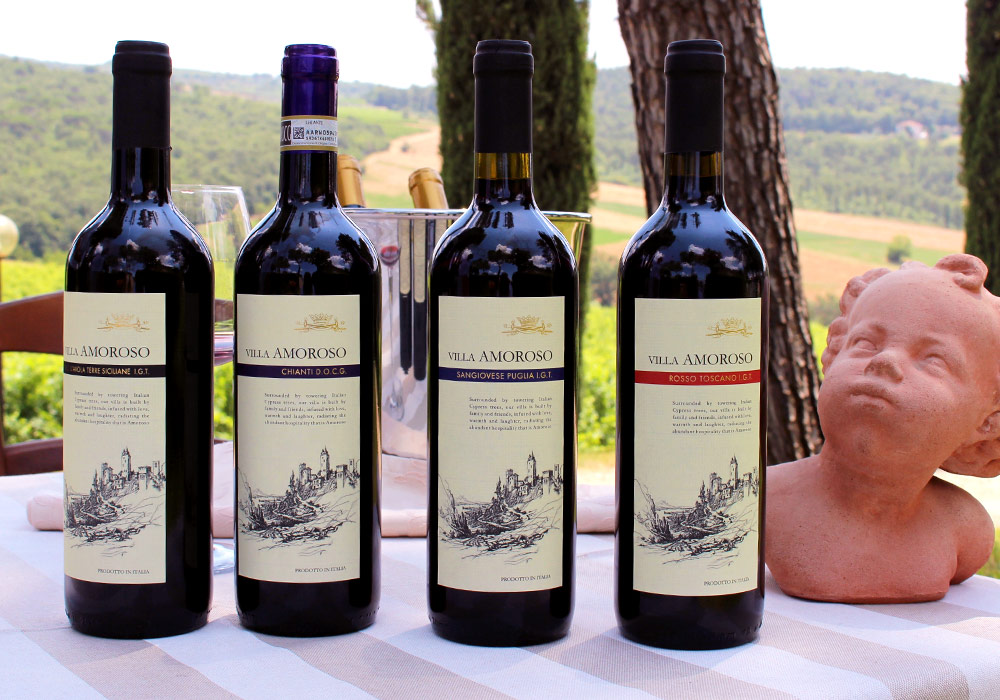 Surrounded by towering Italian Cypress trees, the villa is filled with family and friends and infused with love, warmth and laughter, radiating the abundant hospitality that is Amoroso. With Tuscany at its center, they boast sumptuous wines from the best regions in Italy—from rich Sicilian red wines such as the bold Villa Amoroso Nero d'Avola I.G.T. to crisp white wines from the Tuscan hillsides.
There is something inherently special and charismatic about Tuscan wine. Made in central Tuscany, Chianti is the probably the most famous Italian red wine. In recent years, Italian winemakers have been thrilling wine-lovers around the world with exciting new takes on this beloved, Sangiovese-based wine, like La Scelta Personale Chianti D.O.C.G.
At Home in Valencia, Spain
Vicente Gandía produces wine grown from grapes in various regions of Spain, but its primary winery is located in Valencia. Valencia's long history as a port city has made it a center for winemaking and wine exports over the years, and today it is the third-largest city in Spain.
Situated on the eastern coast of Spain, Valencia enjoys Mediterranean climate conditions, with long hot summers, mild winters, and mostly limestone soils. The region is known for producing many types of delicious wines, ranging from dark Monastrell to aromatic white varieties. There is a long list of grapes grown in the region, but the most popular varieties are Malvasía, Tempranillo, Monastrell, and Moscatel. Other plantings include Macabeo, Pedro Ximénez, Chardonnay, Sauvignon Blanc, Sémillon, Bobal, Cabernet Sauvignon, Garnacha Tinta, Pinot Noir, Merlot, and Syrah.
Our Featured Vicente Gandía Wines
Many of these excellent Vicente Gandía wines are marketed exclusively on a DRINKS-owned property or through a DRINKS Platform Partnership.
90
COUNTRIES
Pietro and Giovanni Coli established their family business
350
HECTARES OF VINEYARDS
Coli is one of top producers in the Tuscany region
15,000
BARRELS OF WINE
New bottling plant with increased annual bottle capacity